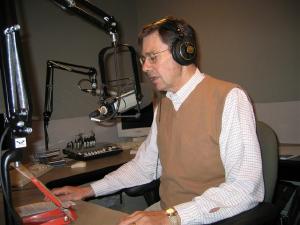 Photo: Deborah Gyapong
Rev. Dr. Allen Churchill, Spiritual Director of GNCM, (photo above) was the founder and for 10 years the only speaker on Good News in the Morning on CFRA 580 AM every Sunday morning 6:30 am - 7. This program has aired weekly since 1999, and attracts more than 6000 listeners, more than CBC radio at that time.
On 20 June 2010, Allen changed the format, interviewing the Rev. Donald Crisp, a Baptist pastor and colleague from Smiths Falls, who shared the speaking with Allen until 2012.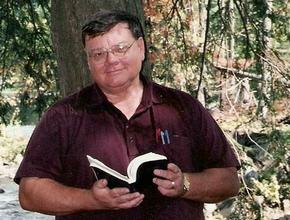 Rev. Don Crisp, above, took over more and more of the broadcasting slots until the end of 2011, when he was diagnosed with protate cancer. In early 2012 until 20 May, archived programs by both Allan and Don were re-run. We have now introduced a roster of four dynamic speakers who each take two weeks in turn.
Sadly, Don did not recover. He died on Sunday 12 August 2012. See news
See also the blog by his daughter Karen.
4 min video clip from the funeral 18 Aug, with grandson Kai, and Deborah Klassen.